Forecasting solar activity
Solar activity can have appreciable damaging effects on Earth-based power transmission systems. Solar storms in particular cause large variations in Earth's magnetic field, inducing current in transmission lines and causing damage to sensitive power transformers and other equipment. Power companies are interested in predicting when such storms will occur in order to mitigate damages, but current forecast horizons are only on the order of days. This project took a forecasting approach based on the hypothesis that subsurface stresses initiate solar flare events, which can result in coronal mass ejections and solar storms at Earth. Our approach uses multitaper spectral estimates of solar gravity modes to forecast a cumulative solar stress index using a very simple state-space model. In retrospective analysis, this stress index was found to be correlated with variance in log X-ray data measured near Earth by GOES spacecraft. We used this index to generate forecasts of when large solar events are more likely to occur.
Please see our JSM proceedings paper for more details: Read more »
In the second stage of this project, I wanted to see if we could forecast the magnitude of large solar events over a similar timeframe. Following from our previous hypothesis,I invetigated whether there was some characteristic of solar gravity mode estimates that was indicative of the magnitude of solar proton events in the near future. I found that there were some six month periods where a power-law was not able to properly describe the distribution of gravity mode estimates. I generated an index based on this property.
I defined three forecast categories based on the index. In retrospective analysis, the forecast categories based on the index performed well when forecasting the magnitude of proton events at Earth over a six month forecast horizon (see the boxplots above).
Interpolation of ground-level ozone
Health Canada researchers are investigating what causes variation in ozone-related mortality risk in larger Canadian cities. As part of this investigation, we examined the ground-level ozone records carefully, and generated predicted ozone concentrations when none were available. The methods for short-term prediction were based on the correlation structure of the ozone time series in question. However, we found that for long-term missing ozone (on the order of days or longer), a different approach was required. The city of Halifax in particular is a challenge because there are long gaps in the city-wide record that are about a year long.
Our approach for prediction over these long gaps is to use precursor information where available. We decided to use regression trees for prediction instead of parametric modelling because they are able to capture complicated relationships and interactions between the precursors and ozone, and algorithms exist to handle missing covariate values, which are abundant. "Learning" methods such as regression trees are also desirable because they are geared for good prediction performance. Using regression trees, we were able to generate predictions that explain forty-five percent of the total variation in ozone concentration at Halifax, and seventy-two percent of the total variation in ozone concentration at Toronto. In Halifax, the variables with the most importance were other regional ozone measurements and the UV index. In Toronto, the variables with the most importance were local NOx, insolation, and temperature. We included prediction uncertainty using a bootstrap procedure by resampling within the leaves (terminal groups) of the regression tree either using the empirical distribution of the data grouped at the leaf.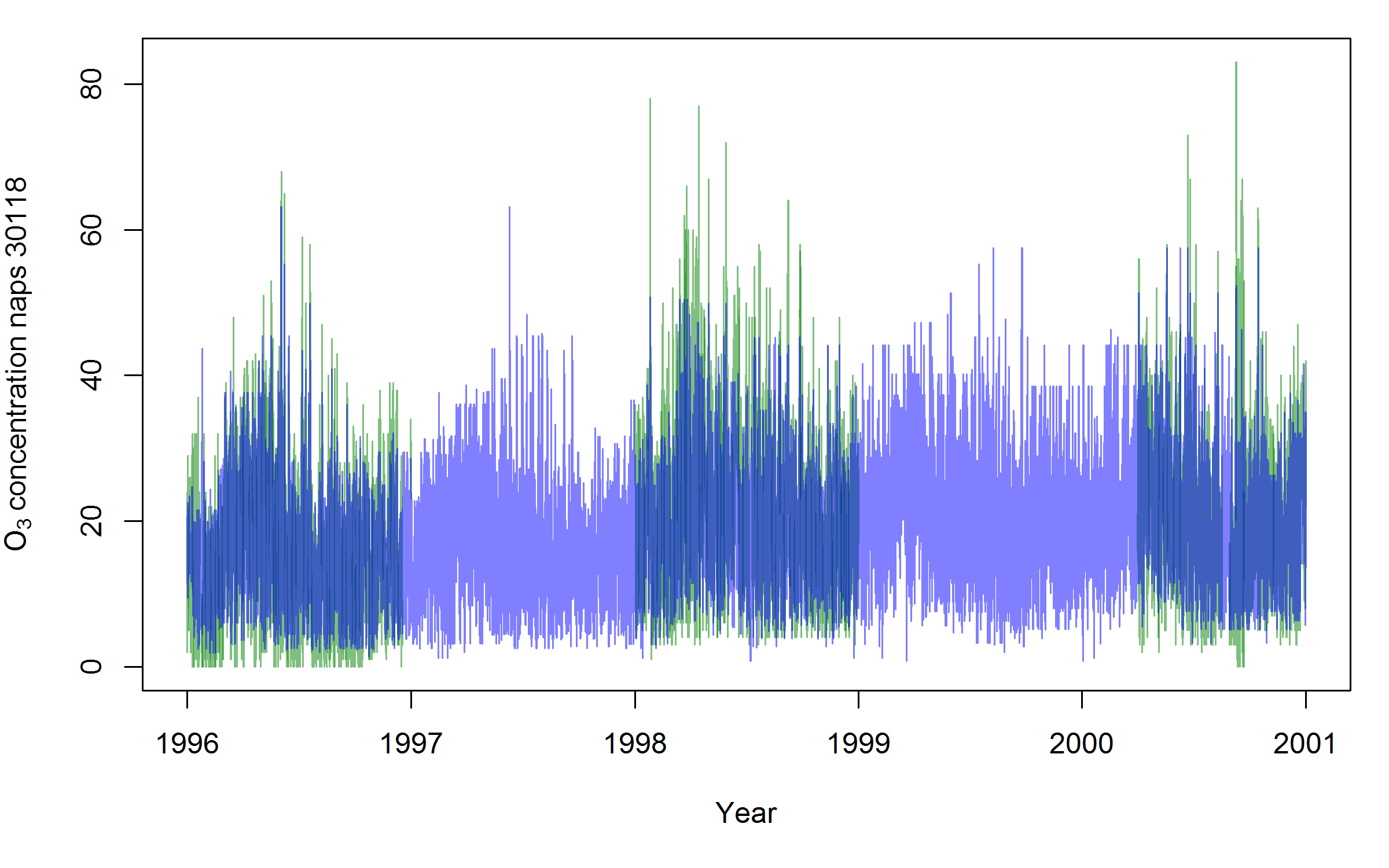 Predicted O3 concentration for station 30118 in Halifax, for years of particular interest from 1996-2001. The prediction is plotted in light blue. The data, where available, are plotted in light green. Overlapping areas are in dark blue.
A poster describing this project was presented at the Statistical Society of Canada meetings 2016: Poster »